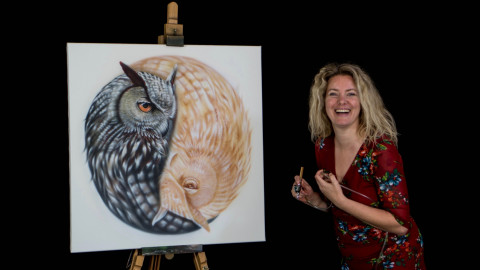 Inge Kennis

is a conceptual artist, specialized in painting photorealistic images with themes such as birds of prey, animals, portraits and large murals.

The bigger the challenge the more passion. Art with a heart.

"I paint to bring people back into contact with nature and the positive symbolism that our ancestors attached to these animals."

"My mission is to connect between the viewer and the image as well as between the viewers, my goal is to let silence in emotion"

"By bringing the emotion out of the work I connect the viewer, at this moment I like to tell the unique story that belongs to every work."



Who am I?

As a child, I did not like being in the woods and in nature. I love trees, I love animals, fantasy, drawing and painting and photography.

In autumn and winter, I mainly occupy my studio with making large paintings for exhibitions and commissioned works. In the spring I plan my wall paintings and I start with my pre-designs. In the summer I like to move between my four walls and with the sun on my ball. I live on the rhythm of the four seasons.


 
Take a look at my website: http://ingekennis.com